It's hardly surprising that patios and paved driveways are so popular across the UK. After all, they're cost-effective, smart-looking and low-maintenance options for covering an outside area.
But low-maintenance, unfortunately, doesn't mean no maintenance at all. Grime, oil, lichen stubborn leaves and the like can all seriously mar your paved area's appearance.
So a paved patio or driveway does need fairly regular cleaning. There are many reasons why a jet washer will be one of the best ways of doing this:
Effectiveness
The right equipment, such as a high-pressure jet washer, will get you the best results in the shortest possible time. A petrol-driven machine applies most pressure, so is perfectly suited to the task. It can remove the most stubborn stains and lichen. Most of the kit available in DIY stores isn't really strong enough for deep cleaning most hard surface. Therefore a professional-grade machine is almost always the answer.
Environmentally friendly
Pressure washing is the eco-friendly way to clean your driveway, since no harsh chemicals are used during the process
Weed removal
Weeds, moss and grass can spring up in the cracks of any paved area. They can be remarkably stubborn, and the roots can cause damage, while grass can stain the paving, too. In short, these kinds of growth can be a nightmarish nuisance! Use professional driveway cleaning services to tackle the problem permanently.
Add an eco-friendly weed or moss killer once your paved area is dry – this helps keep regrowth to a minimum.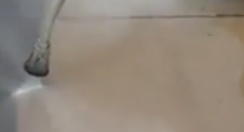 Long-term protection
Acidic grime and algae will, over time, erode your concrete driveway or patio. Pressure or steam jet washing tackles the issue at source, ultimately boosting the lifespan of your paved area.
Enhances safety
Algae and grime can be quite slippery, and there's the potential for family or visitors to slip and fall. Steam jet washing removes this risk.
Equally, algae and mildew are not particularly healthy things to have around your home. So, clearly, it's always best to remove them completely.
Of course, you can keep on top of the grime yourself in between times. But it's best to get the professionals in once or twice a year with professional jet washing services.
What we offer at Royal Stone Care
At Royal Stone Care, our driveway and patio cleaning services in London and around include highly effective steam pressure washing so your paved area ends up looking perfect. Talk to us today to learn more.