Wood repair, restoration and sanding
Wood is highly resistant to everyday wear and tear and very durable. And because timber is a natural material, it retains the heat well; better, in fact, than laminates or tiles, so it's really comfortable underfoot, for example, particularly when it's colder outside.
This flooring is also typically more hygienic than carpeting, especially if you or someone you live with has an allergy, while general maintenance and cleaning are pretty straightforward. What's more, unpleasant odours don't linger since these surfaces are easy to clean.
Aesthetically, wood always offers a timeless appeal that will never go out of style. So while these floors my not be cheap, they're very much investment pieces, and ones well worth preserving.
At Royal Stone Care, we provide a wide range of services aimed at helping you to gain the most from your real wood floor, furniture, staircases and other timber products, and keep them looking their glorious best, whether you're a business or just have some gorgeous timber at home, anywhere in the UK and London area.
Take a closer look at what our wood floor services have to offer – and be sure you give your real wood the care it deserves.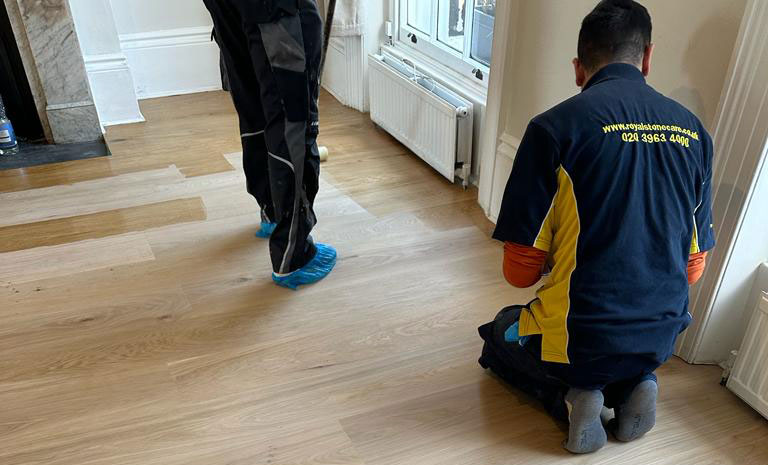 Wood repair and restoration services
We're a wood repair and restoration specialist. And because your timber can dictate the appearance of a whole room, our wood renovation services are in strong demand.
Like anything else, wood is potentially vulnerable to damage. Happily, however, many of the common problems can easily be put right.
Whether the issue is structural or cosmetic, make us your first port of call. We'll have your timber looking as good as new in no time, whether you have scratched wooden surfaces or the hardwood has split. Or perhaps you have an item of furniture that you'd like to see restored to its former glory? We'll finish off the wood restoration project with accurate recolouring. Get in touch today.
Wood polishing services
Worn-out wood can drag down the overall look of a space, and timber is subject to natural wear and tear through the actions of heat and moisture, plus everyday use. Regular polishing brings out timber's finest natural qualities, highlights the grain and the wood and gives this material back its shine.
While you can certainly have a go at polishing your own wood, it's often hard to select the right products and equipment to do the best possible job. And you may not be aware of the best techniques for wood polishing.
Our domestic and business customers across UK and London look to us to provide professional, reliable wood polishing services for everything from doors and window frames to beams, staircases and furniture.
We guarantee outstanding results and offer both traditional and modern finishes, using a blend of oils, waxes and shellac.
Wood staining services
Wood staining is a true craft! And it can transform the dullest piece of furniture or other item into a work of art. It's about far more than rolling on a coat of something. It involves sanding, the correct use of equipment and considerable skill to ensure it doesn't look artificially stained.
We take a traditional approach, staining by hand. There are many benefits to this service, including protection of your wood from excess moisture, UV exposure and mechanical damage, so that you mean extend the life of your hardwood. It also gives a more finished look to your interior, while making cleaning simpler.
Let us finish the word surfaces in your home or business premises, whether you want to make your bannisters look warmer or to transform a decking area. At Royal Stone Care, we have the skills and expertise to protect and enhance your wood, and the investment you have made in it, for many years to come.
Wood floor repair and restoration services
Damage to a wooden floor doesn't have to be the end of the world. We repair scuffs, dents, scratches, stains and burn marks on wooden floors on a daily basis. Our cost-effective wood floor restorations service gives you a permanent, flawless repair.
Royal Stone Care is a wood floor repair specialist and we provide the full range of wood floor repair services. We'll match up the colour and texture of the repair so it blends perfectly with the rest of the floor. Talk to us whether your boards are squeaky and lacking in definition, or look generally as if they have seen better days. We'll soon have it looking as good as new – have a chat with us about wood floor renovations today.
Wood floor polishing services
Professional wood floor polishing services are the cost-effective way of taking care of your real hardwood floor. It preserves the floor sealant and extends the walking surface's lifespan, maintaining and protecting the timber from wear and tear so the surface shrugs liquid stains. We'll do a free site survey, and then remove superficial dust and dirt before sanding and sealing if necessary. Finally, we can apply the layers of fresh polish. The job is completed within a day, and you'll be walking over your floor again in no time, with it looking its glorious best.
Wood floor sanding services
Wooden floor sanding erases the signs of wear and tear, reduces the possibility of splinters and makes surfaces sturdier and easier to clean, while also potentially adding value to your property. It's a process that can remove years of unsightly wear and tear.
Worn boards and scratching are indications you may need a professional wood sanding service. Pour a few drops of water on to the section you think is damaged; if the liquid forms droplets, the varnish is still there. But if it soaks into the wood, it's time to call in wood floor sanding services.
At Royal Stone Care, we're a floor sanding specialist and employ highly trained and experienced craftsmen, plus high-quality equipment which minimises dust.
Wood floor sealing 
Floor sealing provides protection from damage, increases its longevity, and also wards off decaying and warping, while helping to prevent cracks from developing. You should always complete a thorough sanding before wood floor sealing.
This can be done with wood floor waxing, which seals the porous surface, protects it from staining and conceals dents and scratches. Wax can penetrate deep into the wood, offering a great level of protection. So we provide professional wood floor waxing services, and always recommend this is done every six months. Varnish, oil and polyurethane are alternative sealants.
Wood floor oiling
If your wood floor is losing the sheen and colour it used to have, wood floor oiling is one great solution to refresh and revive the surface. This process nourishes and protects, while also enhancing its overall appearance. In extreme cases, without oiling, the boards can dry out and crack. The protective coating means water and other moisture won't sink in to your floor. And if you have pets, all you have to do to handle scratches is sand down the timber and oil again.
Finally, oiled wood flooring brings out the fine details and grains of each plank, so you get a wide range of colours and tones depending on which oil you use. Not only does it look very natural, but you can re-add it multiple times with no need to sand it. It doesn't need a lot of time or planning – just call us and we'll provide efficient, professional wood floor oiling services.
Wood floor staining services
Stains easily renovate wooden flooring and using one can change a room's entire look and feel. You'll change the colour of your wood while still highlighting the timber's natural grain and bringing out the natural elegance of the material. A clear varnish staining also adds protection to your timber.
You may want a different colour of wood, or to emulate the hue of a more expensive timber. Modern stains come in a rainbow of colours, and your selection will depend on factors including wood type, light in the room and the overall design of the space.
However, if this process is not done properly, you can see some unwanted results. So call us now – and benefit from professional wood floor staining services.
Wooden deck repair and restoration
If your decking is showing its age, or becoming slippery and dangerous when wet, or parts are even rotting away, it's time to show it some attention before it falls into disrepair. Yearly maintenance should include a clean-down and reseal with decking oil as a minimum.
Our full portfolio of decking renovation services includes safe pressure-washing, dirt and algae removal, cleaning of railings, deep-cleaning and protective oiling treatment. We can also carry out repairs to rotten boards. Ask us for a quote today – we work with hardwood, softwood and composite platforms.
Wood floor gap filling
Most wooden floors will need gap filling at some stage in their life. Over time, due to the effects of humidity, moisture and temperature changes, wooden floorboards will, to a greater or lesser degree, contract, expand and shrink. Mostly, this is not a problem. But in more excessive cases, you are left with gaps which could, if left, impact your floor's stability, appearance and insulation. 
Our professional service allows these gaps to be filled in using high-quality products, quickly and easily. Customers look to us for long-lasting, outstanding results which leave a smooth, even surface with enhanced stability and solidity.
Wooden stairs services 
A wooden staircase not only looks great but it adds value to your property, and creates a focal point. Timber is durable enough to work well in heavy-duty structures, so it's the ideal material for a stunning staircase.
Wood stairs repair services
It takes a fair amount of patience and skill to repair wooden staircases and their rails or banisters – luckily we have plenty of both! Get in touch if you have a creaking stair, accidental damage, rotten stairs or general wear-and-tear issues. Our specialist tradesmen mend wooden staircases quickly and efficiently, and so that they remain in keeping with their surroundings.
We'll work with minimal disruption, and can help whatever the style and age of your stairs. These units are often neglected, but they can be revived to take their rightful place as a centrepiece of your property.
Wood stairs renovations
They have tricky corners and shapes, so it can be tempting to view stairways as being beyond practicable renovation. Certainly, it's a labour-intensive task, sometimes involving stripping away old layers of varnish or paint before finishing and the doing the wood staircase sanding. But the results can enhance your living or working space to striking effect, while also adding to the value of your property.
Wood stairs staining
Again, this is a job best left to the professionals. Let us take care of expert staining of your real timber staircase, in a colour of your choice to suit the surroundings. Staircase staining adds another layer of protection to your wood against the constant foot traffic stairs tend to have, after restoration or sanding, while reflecting the beauty of real wood.
We have the teams and equipment to do a stunning professional job, every time. 
Sauna wood restoration
Whether you have a private sauna at home or a facility in a spa, health club or similar, the timber will need a little TLC from time to time. Customers at a public place in particular will notice peeling, decaying or damaged wood in the sauna – after all, there's not much else to do in there but sit and look at it! We can help with sauna renovations, maintenance and restorations, from repair and sanding to staining, varnishing and completion. Get in touch today for a free quote.
Fitness and sport wood flooring
The timber in school gyms and halls and other public facilities such as fitness or dance studios comes in for quite a battering, with constant heavy footfall. Most will experience at least minor damage, while all will need ongoing maintenance. Equally, a worn-looking floor hardly inspires confidence. We carry out repairs, refurbishment, sanding and sealing of these surfaces, whatever the wood type. We understand the technicalities of sports flooring, and offer long-term solutions rather than quick fixes.
Interior wood repair and restoration on boats
If you're lucky enough to have a boat, give us call. We can help with repairing and restoring the internal wood so that it's all consistently smart-looking as well as watertight. Talking to us about wood maintenance services for boats and yachts, and bring us on board – especially if you take passengers out on the water.
Got a question about our wood repair and restoration services? We serve domestic and business premises across the UK and the London area. If you want to ask us anything, or would like a free, no-obligation quote, please be in touch.